ASHOKA® By William Goldberg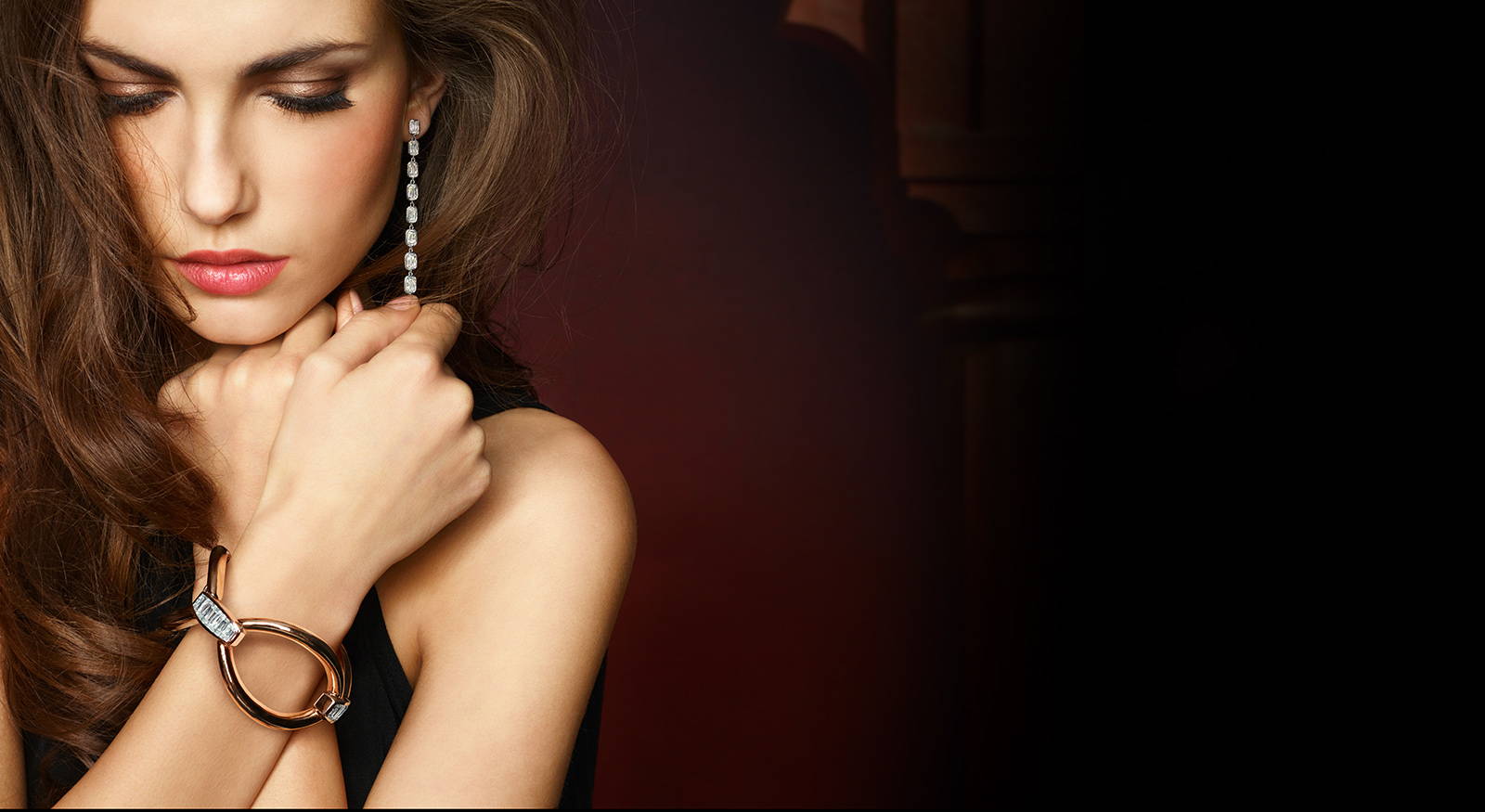 William Goldberg loved the joy that beautiful diamonds brought to people. Sewn into all his bespoke suits was a small, hidden pocket to stash secret gemstones, which he revealed at unexpected moments to bring sudden delight to gatherings.
William Goldberg began his company with a passion for diamonds and a vision for excellence. For over a half century, William Goldberg has been known as one of the most distinguished diamond jewelry houses and purveyor of some of the finest and rarest diamonds the world has ever seen.
---
William Goldberg is know for the world's most breathtaking diamonds. Long recognized for unparalleled standards of excellence, our master craftsmen have dedicated their lives to creating beautiful and exquisite diamond jewelry.
William Goldberg was fond of saying, "You shouldn't cheat a diamond of its right to be beautiful," and our ASHOKA® jewelry collection is a wonderful affirmation of his vision.
---
William Goldberg had a unique talent for transforming rough stones into legendary gems. But one day, he came upon a diamond that was already a legend. Pulled from a long forgotten mine in India's famed Golconda region. Cut by an unknown artist of remarkable skill.
The Ashoka diamond was named in honor of one of the most powerful and benevolent rulers the world has ever known.
---
Inspired by the original Ashoka diamond, William Goldberg created a cut so unique and distinctive, it was granted its very own patent.
The ASHOKA® diamond is a stunning affirmation of William Goldberg's vision — extraordinary, exquisite and filled with joy. So rare, that only a fortunate few will ever possess it. It is a diamond without equal.
---
The Beauty of William Goldberg

Light is the most important element that brings out the brilliance of a diamond. Without light diamonds brilliance will not come to life.
With the combination of Hearts and Arrows, Ideal proportion, eye Clean Characteristics, Le Lumiere Grading and 3EX GIA Grading (For 0.30ct up) light has reached perfection through Lumiere Hearts and Arrows Diamonds.

Diamonds are like people created equal yet different; Diamonds are like people balanced between Yin and Yang; Diamonds are like people, each carry an inner light, each need to be refined to perfection.
Just like people, diamonds take a journey from infancy (rough diamond) to maturity (Polished diamond). Just like people each diamond is distinctly unique, no two are identical.

Each Le Lumiere piece is beautifully designed and crafted to symbolise the true definition of perfection.
Its Diamond Cutting has reached perfection with the recent introduction of Hearts & Arrows, 3EX Grading and Ideal Proportion. Combining these three important elements creates perfection in beauty and brilliance.
---
FireTrace® is one of the most advanced technology that measures the dimensions, proportions and most importantly the brightness, fire and scintillation of a diamond. The higher the brightness, fire and scintillation the more brilliant a diamond is.
The picture below shows that the brilliance rate of the Hearts & Arrows diamond with ideal proportion is higher than the generic diamond on the left. One can see a clear image of the hearts and arrows.  
Diamond Keywords
Brilliance: is an essential attribute of a beautiful diamond and has two components; brightness and contrast. Bright diamonds return lots of light from the surroundings back to the "face up" facet.
Fire: Dispersed light appears as flashes of rainbow colors. You see more fire in darker environments like restaurants that have just a few point light sources or a flickering candle.
Scintillation: is the intense sparkles in a diamond as it moves. Black and white sparkles of scintillation show well in floodlit or office lighting environments.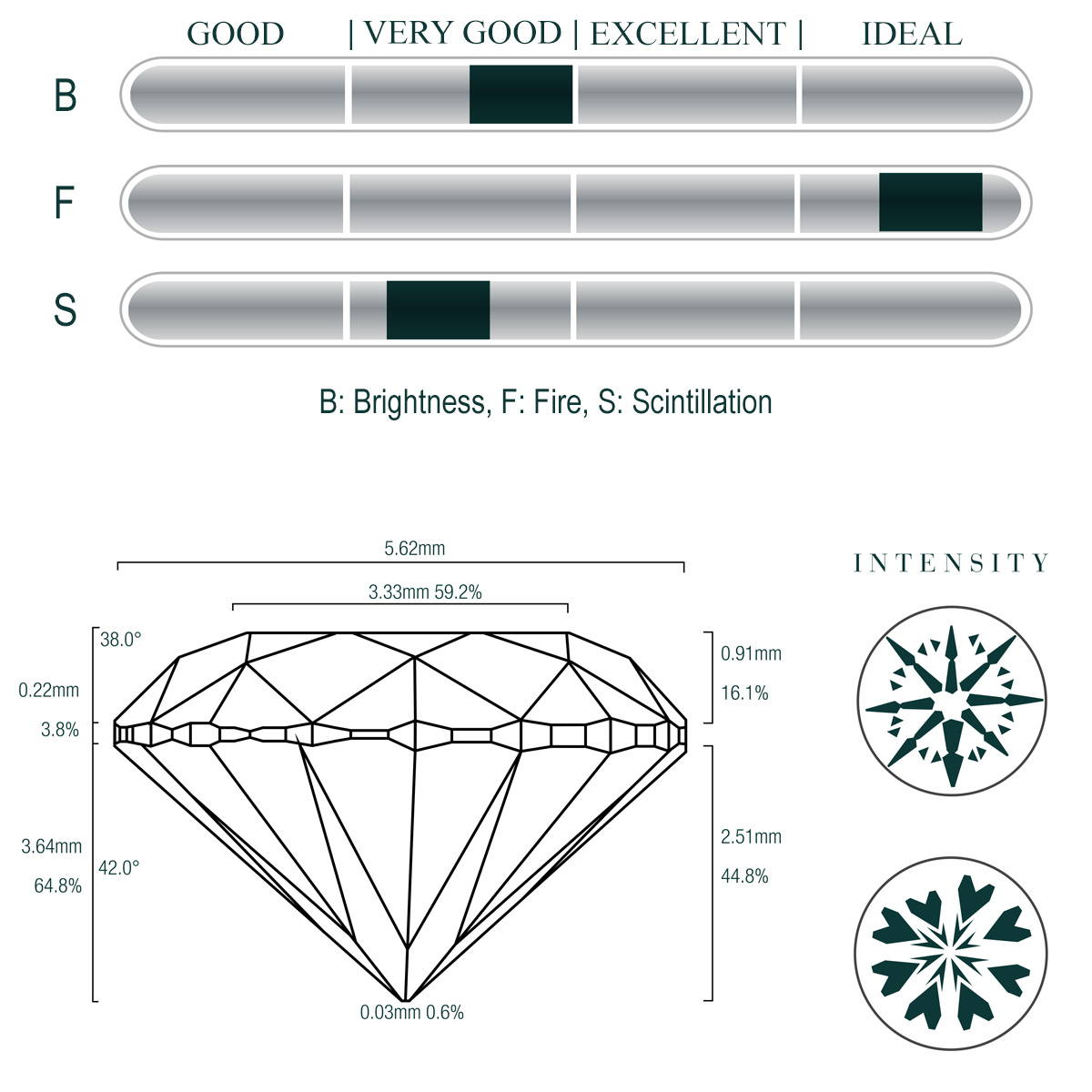 Le Lumiere's Hearts & Arrows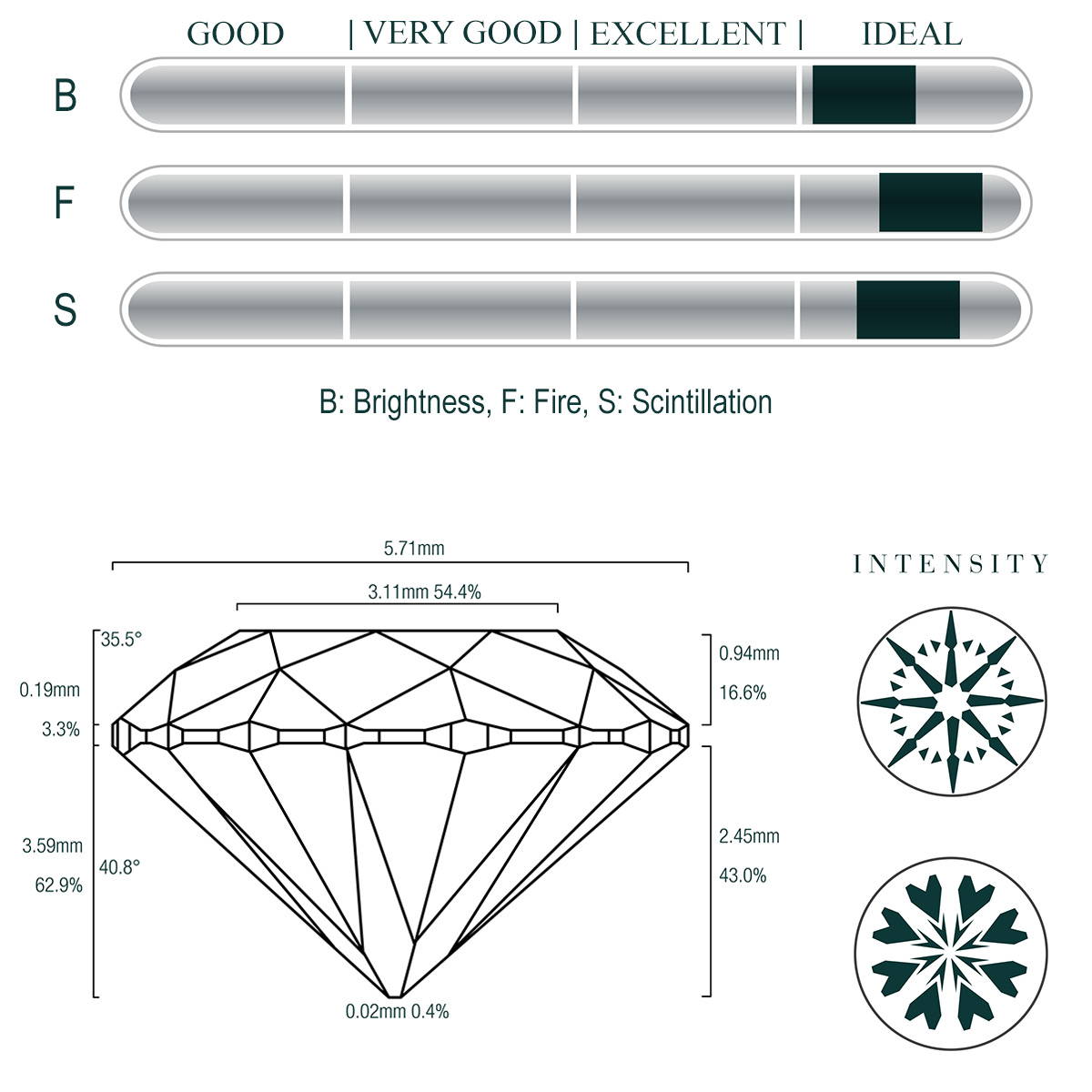 Each Le Lumiere - Diamonds of Light™ comes with a Le Lumiere certificate to verify that each diamond has passed our strigent quality control with an additional GIA 3 Excellent Grading certificate for diamond sizes greater than 0.30ct.